Leak Test Equipment (PROVASETT3D)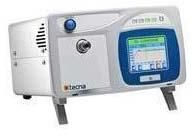 Business Type
Manufacturer, Exporter, Supplier, Retailer, Wholesaler
Type
Leak Test Equipment
Voltage
220V
Automatic Grade
Automatic
Click to view more
Item Code : PROVASETT3D

Justifying our place in the domestic market, we are captivated into providing a broad assortment of Leak Test Equipment. Simple to install, highly useful and long lasting, these offered products are developed in conformity with the quality norms and standards pre-defined in the market. Along with this, their high performance and durability makes these highly demanded and commended.

T3D is an instrument designed to perform leak test with the differential method. The differential method, by measuring the pressure difference between the product to be tested and a reference sample, allows to reduce the test time and increases the sensitivity and stability of the test. It also allows you to run tests on sealed components from the outside.
With this system you can get the very high resolution of a tenth of a Pascal also at high test pressures like 10 - 20 bar and more.

The innovative touch interface with color display and real time plots of the pressure during the test make it simple and easy to use :
Resolution up to 0.1 Pa (0.001 mbar)
Available full scale range: -0.8 / 0.5 / 2/ 6/10 bar and more at request
Color 3.5" LCD with touch screen, multi-lingual interface
Graphical visualization of the test in real-time
50 programmable test tables that may be combined in sequences
STAUBLI connector for calibrated leaks (LeakMaster)
Leak flow rate calculation
Different operating modes (leak , volume control, interception, in chamber)
Integrated management of external automations (eg, security cage and plug)
Digital interface for PLC
Communication interfaces RS232/RS422/RS485/USB
Electronic control with ramps management for complex test cycles
Vacuum test with automatic pressure control available on request
Interfaces USB , Profibus, CANbus , LAN, Wi-Fi available on request
Virtual Instruments (driver) for National Instruments LabView available

T3D can be operated manually , by PLC or by a supervisor network via a PC or terminal operator. It can therefore also be used on automated production lines and in any industry.
The digital inputs and outputs of T3D are fully customizable and is therefore possible in many cases to directly manage the automation of the test bench without the needs to use an external PLC.

T3D can be expanded with data collection capabilities and real-time SPC statistics (average, min, max, range, standard deviation, CP, CPK, chart of the normal distribution), making it the perfect tool for all the organizations that follow the six-sigma methodologies .

Finally T3D can be connected to a barcode reader to scan data from work orders and automatically select the test table suitable to the read product code read.
You can also store other information such as the serial number, the model code or the name of the operator.
Using a label printer then you can get a system that ensures in a simple and immediate way the traceability of tests. Printed labels may be fully customized by the customer on a test program base.
Looking for "
Leak Test Equipment (PROVASETT3D)

" ?